LinkedIn QR code boosts your chances of getting discovered by everyone. That's because they are easy to scan without the need to remember or type URLs. For example, a QR code linking to your LinkedIn profile and placed on your resume might be a great idea. Or you can also use that on your networking/business card. That makes you innovative and different from the rest and increases your reach and potential.
Where to use the LinkedIn QR code?
Networking/Business card
Resume or CV
1. Networking/Business card
You can use your contact details besides a QR on your networking card. That QR should link to your LinkedIn profile. That will make it easy for everyone to scan and view your details. Also, this makes you a more creative and innovative person.
2. Resume or CV
If you are a job hunter, then you might use a QR code linking to your LinkedIn on your CV or resume. Place the QR on the top right of your CV or resume. That will make it easy for recruiters to access your credentials easily.
How to get a LinkedIn QR code?
You can use the LinkedIn QR code generator to create a free QR code for your LinkedIn profile. Additionally, you can add a custom logo, a frame, a label, and colors to your QR. Follow this step-by-step guide to get your LinkedIn QR code.
1. Copy your LinkedIn profile URL
Firstly, log in to your account and tap the profile icon on the top right of the header. Then tap the "View Profile" option. On the next page, you will see your profile page. Then copy the URL from the address bar and move to the next step.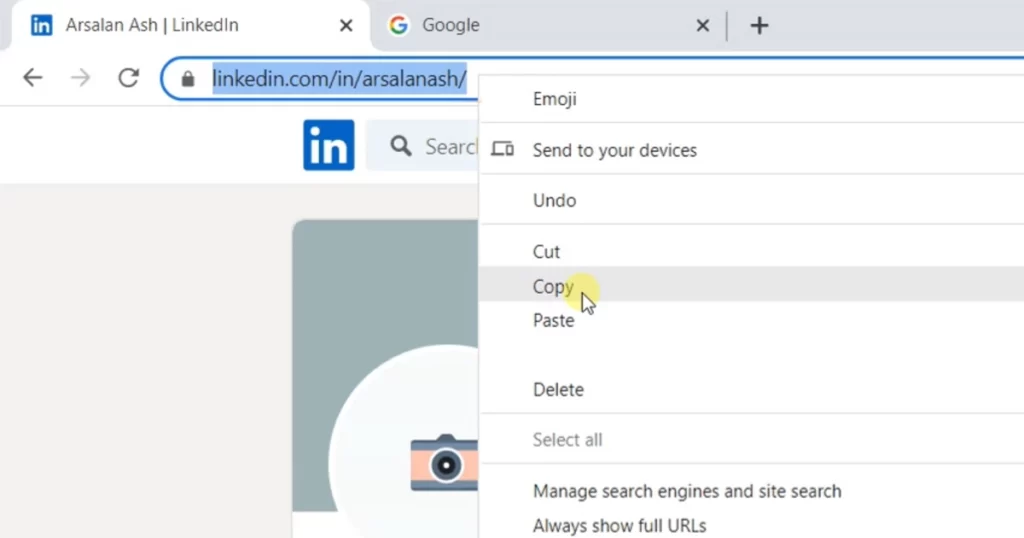 2. Open QR Generator
Once you have copied your profile URL, open the QR Generator website. Tap on "LinkedIn" from the QR menu.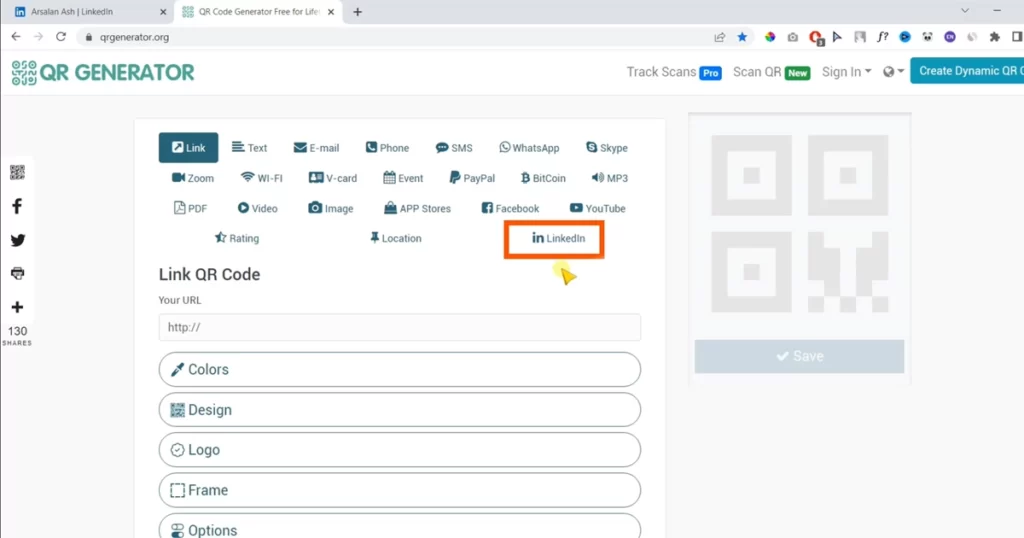 3. Paste your LinkedIn profile URL
You will find a URL field on the QR code generator page. Here you need to paste your copied URL from step one. Once you paste your link, a QR code should appear on the right sidebar.
4. Customize QR code
That is an optional step. In this step, you can add customization to your QR code. The QR customizer allows you to add your logo or choose from presets. Additionally, you can change colors, add frames, change patterns, and add labels with custom text.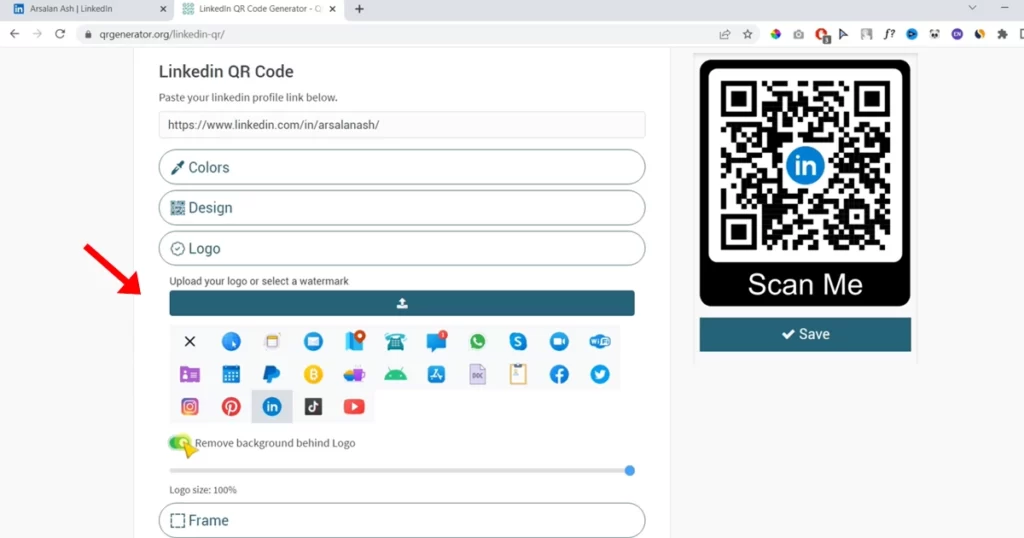 5. Download the LinkedIn QR code
Now that your QR is ready, you can save settings and download it. Go ahead by tapping the "Save" button and finally tap the "Download" button. The downloader will provide the option to download in several formats, including PNG, PDF, SVG, and print.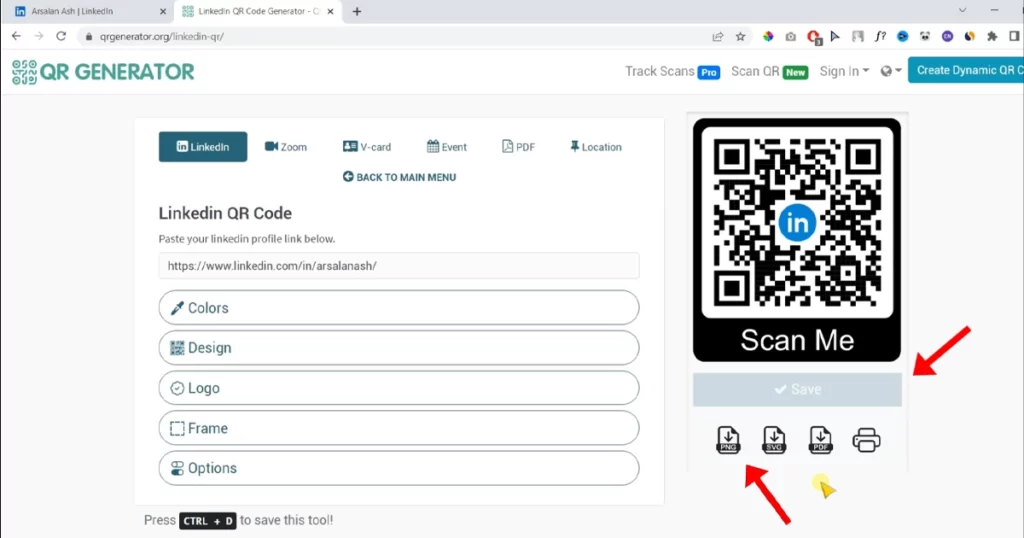 6. Scan QR code
Finally, make sure to scan your QR code. That will allow you to check if your QR is working or not. Use your phone camera to scan the QR or try an online QR code scanner.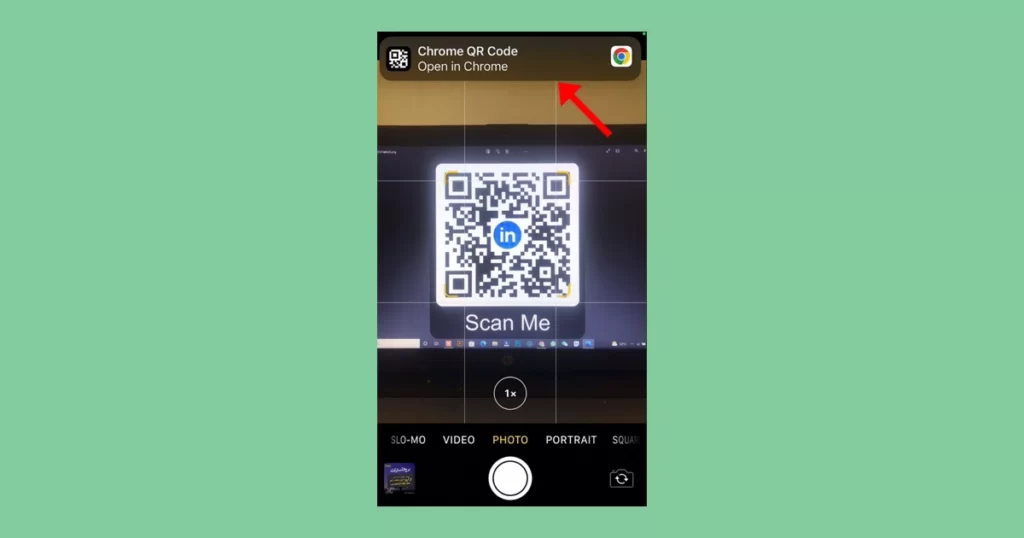 Final thoughts
You can use your QR code beyond your business card or resume. For example, on a PowerPoint presentation, your website, a research paper, and the list goes on. These black and white two-dimensional barcodes might look simple, but they are impactful.
Was this post helpful?
Let us know if you liked the post. That's the only way we can improve.